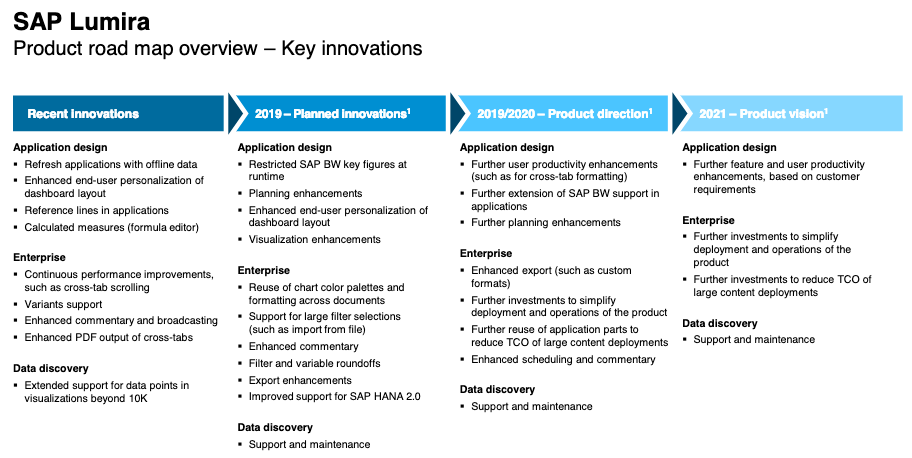 SAC Application Design and Lumira Designer – Roadmap questions
I recently got quite some questions about the new Application Design feature in SAP Analytics Cloud, especially its position in relation to SAP Lumira Designer (Design Studio). I understand that all this may raise some questions with SAP BI customers that haven't hopped on the SAC train yet or are just starting with their orientation on cloud solutions. So let's bring some clarity here by starting from the beginning.
Application Design is part of the SAP Analytics Cloud platform and gives you the possibility to offer centrally governed analytical applications, created by professional application designers. These applications range from simple dashboards with just a few charts or tables to complex applications with custom layouts and interactivity options created with scripts.
With the option to use custom scripts the applications go a big step further than the SAP Analytics Cloud stories. That's also why the stories are positioned to be (also) created by business users, while the applications are solely built by application designers. Eventually, the idea is to be able to integrate and combine features coming from the whole SAC platform in applications. For example, an application could visualize a live data source (BI), run a predictive scenario and offer planning capabilities to update data based on this.
So does this now mean that SAC Application Design should be seen as the successor of Lumira Designer and is SAP Lumira Designer already end of life with this? No, well, at least not for a while. First, Application Design was announced in 2018 but has not even been released yet. The GA has been pushed forward a few times and I'm actually fine with that. SAP has always been very open on this, stating that it would take around two years of development to catch up with Lumira Designer. Also check my blog Is SAC Application Design enterprise ready? for more details on this.
What you should know is that major new features, especially in the predictive area, will be exclusively developed on the SAP Analytics Cloud platform (thus including Application Design). The Lumira Designer roadmap on the other hand looks already pretty sober, with almost no new features and limited to further enhancing existing features, performance and development productivity. Lumira Discovery is pretty much in support and maintenance mode already.
The good news is that SAP Lumira 2.x will be supported and maintained at least until the end of 2024. With an Application Designer solution that first has to catch up with Lumira Designer in the coming 1,5 year or so, there is enough time for further orientation and to come up with a migration strategy.