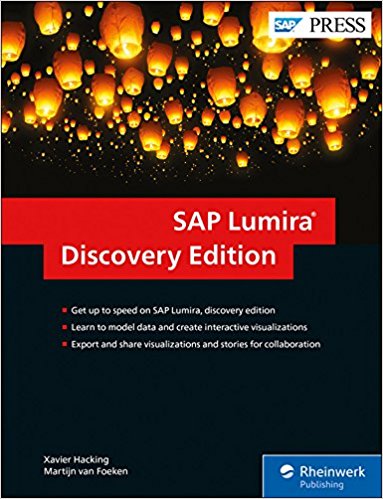 SAP Lumira, Discovery edition (SAP Press) nu beschikbaar!
Vorige week hebben we de eerste kopie van SAP Lumira, Discovery edition (SAP Press), geschreven door Interdobs consultants Martijn van Foeken en Xavier Hacking, aangeboden aan Merlin Knott (SAP VP of Sales for Analytics North Europe) op het SAP Hybrid Analytics event dat Interdobs samen met SAP Nederland organiseerde. SAP Lumira, Discovery edition is nu beschikbaar via SAP-Press.com en Amazon en kan besteld worden als hardcover, DRM-vrij ebook of als bundel.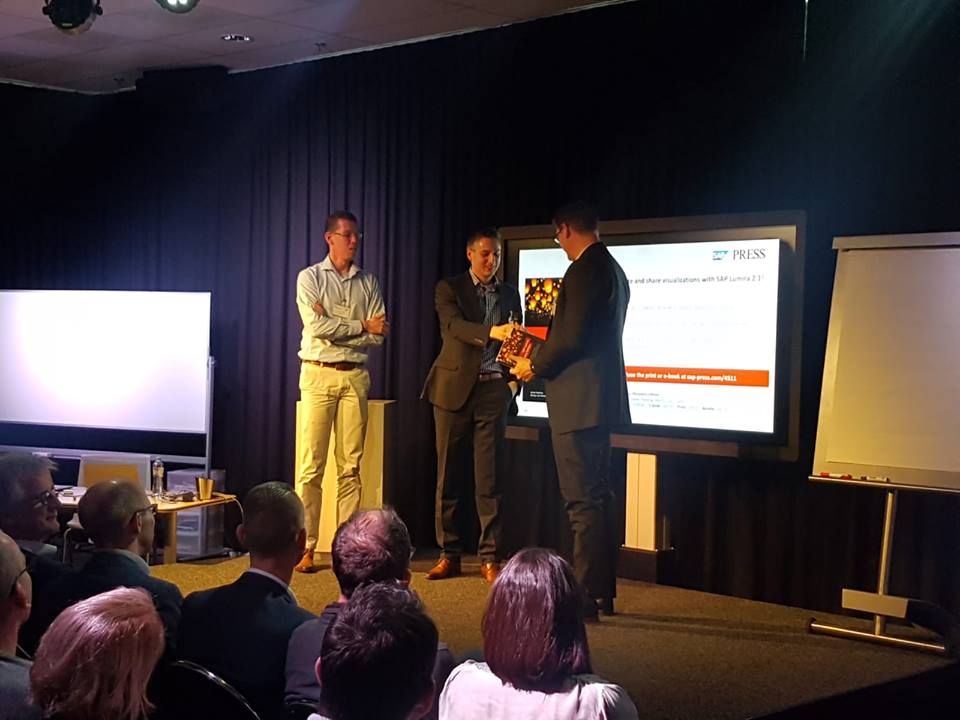 Het boek beschrijft alle nieuwe features uit de meest recente 2.1 release van SAP Lumira, Discovery edition. Het boek is nuttig voor zowel nieuwe gebruikers als de gebruikers die in het verleden al met SAP Lumira 1.x gewerkt hebben. De opzet van het boek zorgt ervoor dat beginners zeer snel up-to-speed zijn, dankzij de stap voor stap instructies en de honderden schermafbeeldingen die gebruikt kunnen worden. De datasets die in de voorbeelden gebruikt zijn kunnen worden gedownload van de SAP Press site, zodat de lezer het boek op de voet kan volgen.
Voor de meer ervaren gebruikers hebben we ervoor gezorgd dat het boek zo goed mogelijk ondersteuning biedt in de overgang van 1.x naar 2.1. We beschrijven de compleet nieuwe user interface en werkwijze in Lumira Discovery. Thema's als offline en live data worden uitgebreid besproken, en alle data analyse, manipulatie en visualisatie-opties komen aan bod. Daarbij worden de installatie en configuratiestappen van zowel de client tool als de BI Platform server add-on in detail beschreven. Het laatste hoofdstuk beschrijft de diverse interoperability scenario's waarbij Lumira Discovery stories kunnen worden uitgebreid in SAP Lumira, Designer edition.
Een voorbeeldhoofdstuk, de volledige inhoudsopgave en index kunnen hier gevonden worden. In onderstaande video introduceren Martijn en Xavier het boek.
SAP Lumira, Discovery edition – SAP Press
Xavier Hacking, Martijn van Foeken
498 pages, 2018
E-book formats: EPUB, MOBI, PDF, online
ISBN 978-1-4932-1613-0