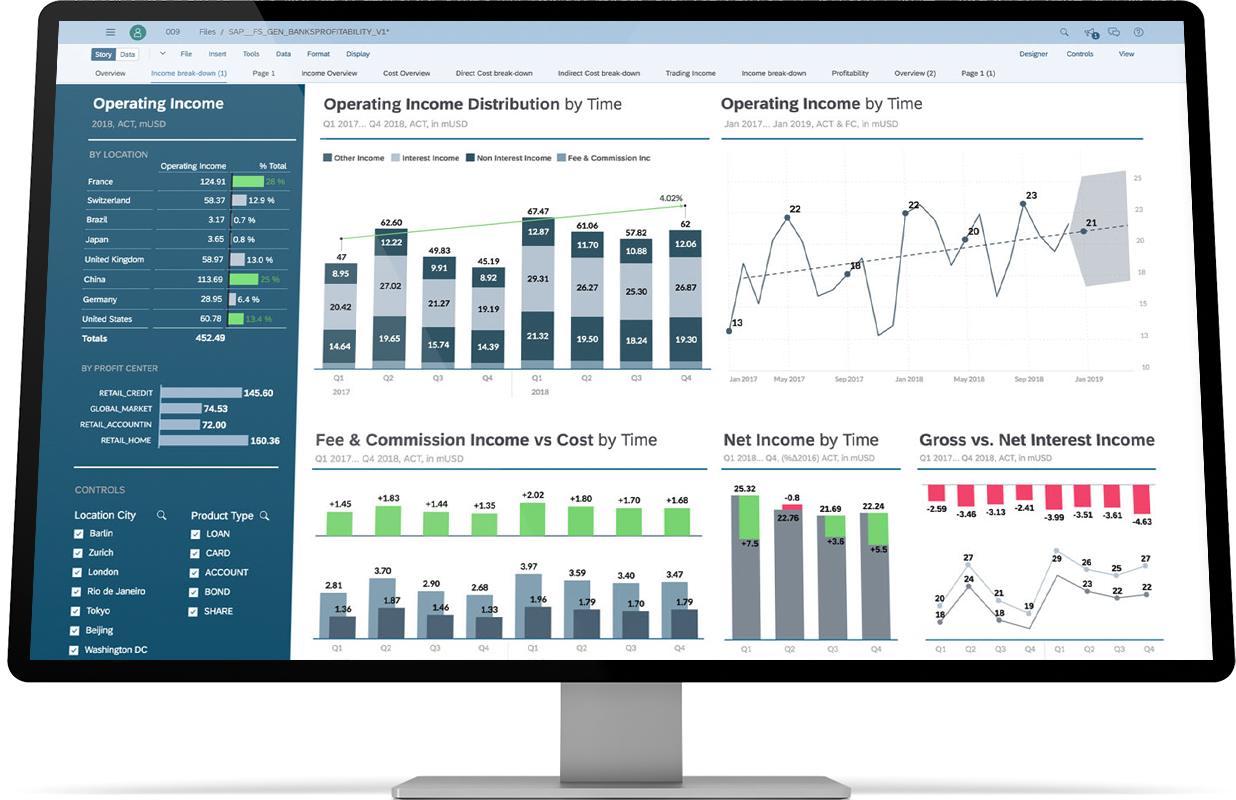 SAP Analytics Cloud 2019 Roundup: the good, the bad and the ugly
2019 is almost over, so just like last year this is a good moment to look back at what happened in the SAP Analytics Cloud universe over the past 12 months. This year we got an astonishing 24 wave releases for the SAC tenants that are on the fast track schedule, so that should be enough to cover! Traditionally, I'll do the grouping of the roundup in a good, bad and ugly manner.
The Good
This year's SAP TechEd confirmed the statement from 2018 that SAP Analytics Cloud would eventually turn in to the single BI solution for all the SAP solutions. In Q4 the betas for the first batch of 'embedded analytics' started, featuring the new SAP Datawarehouse Cloud, SAP SuccessFactors and SAP Fieldglass. 
The standalone SAC solution is turning more and more into this broad enterprise BI platform which will very soon overhaul the feature set of the on-premise SAP BusinessObjects BI Platform. Let's go through some of the changes:
Platform administration has made some improvements, for example the simple fact that we can now finally authorize on models by storing them in folders. Sharing settings on these folders also have improved with better inheritance of sharing settings. Also, we can now take the full user administration outside of SAC by mapping accounts, teams and roles to MS Azure AD groups. With this you could setup your SAC tenant in such a way that users only need to go to the SAC URL and automatically an account is created for them and assigned to the correct teams and roles: no more manual admin activities needed in SAC! Finally, there are improvements in the Transport/LCM area, where we now can directly deploy between tenants, without export and importing files. 
Next, 2019 introduced the Analytics Designer in SAC, which basically brought Lumira Designer into the cloud. Throughout the year several big updates were made, including a bunch of the 'missing features' that I regarded absolutely necessary to make this an enterprise-ready tool. For example, several container objects are now available to group individual components, global scripts are covered, bookmarks are supported, we have export options and we can set the (relative) positioning of widgets by scripts. Really a lot happened here this year and in Q4 even an SDK for the creation of custom widgets was introduced. 
With the new Data Analyzer SAC users can directly use SAP BW BEx Queries or SAP HANA views within SAC, without having to build a model for each source first. This is basically the 'Generic Analysis Template' that we know from Lumira Designer, or – going a bit more back in time – the BEx Web Analyzer running on SAP BW. This sounds as a minor feature, but it actually fills a huge gap as this now allows users to simple slice and dice through all the existing queries and views, without having to install the Analysis Office add-on, or to build a model and story in SAC.
Talking about Analysis Office, we can now also use the live SAP BW and SAP HANA connections that are defined on SAC with Analysis Office. Great! So what we still miss here is a proper way to use SAC as a repository for AO workbooks. Okay, technically you could already manually upload the workbook files into SAC, but I'd like to see this integrated in the AO add-on itself. This is on the roadmap for early 2020. 
Something that is also on the roadmap for 2020 and is currently in beta is scheduling of SAC stories (PDF to mail). Just another major BI Platform feature that will be covered!
After all these 'enterprise platform' features, let's check some more specific features that make the life of the actual SAC users a bit better. We've gotten several usability improvements, for example an additional right-click context menu on tables to make more specific changes. It is now possible to rename measures and dimensions in the stories, and we have much more options to show or hide specific parts of a widget. The 'Search to Insight' menu is now accessible as a layover so you can quickly use it to ask a question without having to leave your story. An option to export data from a widget to Excel was added and SAC now gives recommendations for certain data comparisons in charts. We now have more flexible options for (dynamic) time selections (offsets) and more specific linked analysis options. Blending live BW data with acquired data was made available early in 2019. Finally, several big performance improvements were realized: Smart/merged BW queries, browser caching, delayed cascading filters, HTTP/2 support for SAP BW.
The Bad
This part – unfortunately – contains a lot of the same comments as last year. SAC still doesn't have a real undo/redo option built-in. They now came up with this popup after you delete a widget, which gives you the option to restore it again. Right. Next, there is still this feature gap between acquired data versus live data sources, and live BW versus live HANA. For example, when using live BW sources you still can't create custom dimension. Also, the formula options with the SAC story are still very limited compared to what a Webi offers (or worse, a Tableau/PowerBI).
SAC Mobile is still a strange story for me. You'd say that this is something extremely important, which could really help to convince the decisions makers in organizations to adopt SAC as their reporting platform. The app hopelessly lags behind the 'web' version of SAC: still no support for bookmarks, prompts and Analytics Designer apps. For Android devices there even isn't an app! Finding stories is still problematic, although the new 'Featured' stories option helps a bit in this as it limits the list of available stories to choose from. And did anyone else notice that Roambi was suddenly gone? #RIPRoambi
As the SAP Cloud solutions (SuccessFactors, Fieldglass etc.) now get a more prominent role with regards to SAC, it is also kinda strange that the 'embedded analytics' solution within these tools can already make use of live data, while the standalone SAC is still limited to data acquisition only.
The Ugly
Continuing on embedded analytics, it is also not very clear how a BI landscape will look like in case an organization has multiple of these cloud solutions: This would then mean that you'd have multiple SAC tenants, with their own specific content, user base, etc. which could result in more maintenance/overhead.
For the SAP Analytics Hub, or now for some reason renamed as the SAP Analytics Catalog, not much has happened since its initial release, which is disappointing. I believe there are some ideas to step away from the current 'standalone' setup and integrate this solution more in SAC itself. I'd also like to see this in the mobile apps.
Something fishy is the upcoming move from the SAC Neo tenants to the CloudFoundry platform. Older SAC customers still make use of the Neo tenants which are hosted by SAP itself. Several SAC features are not available on this platform, for example the Predictive features. SAP already started ending contracts for Neo tenants and asking customers to move their content to new CloudFoundry tenants. For small tenants this probably is not that much of a deal, but for larger setups, with multiple tenants (Development/Test/Production) and thousands of objects, this could be quite an undertaking. 
Conclusion
Again, this year was very good for SAP Analytics Cloud and the direction towards a single analytical solution for all SAP (and even non-SAP) sources with a broad feature set is very clear. Looking back at my comments above I see that there is much more stuff in the good section than in the rest, which is a good sign!
Happy 2020!